AHG Golf Whiskey Glass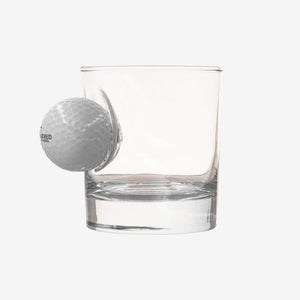 Pour up a glass and entertain your buddies with tales of perfect rounds or simply delight your golf lover with our 11 Oz golf whiskey glass.
This heavy, high-quality rocks glass was handcrafted by master glassmakers in our workshop. 
After the long processes of heating, altering and curing each glass, they are individually hand-embedded with a real golf ball to create a "hole in one" feeling everytime you drink.
Our glasses come in a badass box which highlights the craftsmanship and completes their vintage look.
Important: Every glass is unique and handcrafted in-house!
how it's crafted
Heat with a torch and carefully sculpt
Final product
Each glass is different and has its own unique character depending on the person who is crafting it, the temperature of the glass and the position of the bullet. 
Featured glasses
Get now